DELIVERY OF YOUR PRODUCT
LARGE PART THERMOFORMING
TOOLING
PROTOTYPES FAST!
CUSTOM PLASTIC ASSEMBLIES
POTTING & ENCAPSULATION
ELECTRONIC ASSEMBLY
PACKAGING
MECHANICAL ASSEMBLY
---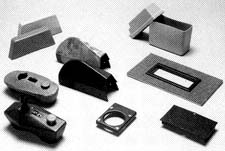 SMALL HIGH VOLUME PARTS TO LARGE, DEEP DRAW, LOW VOLUME PARTS

---
USE SF TECHNOLOGY AS YOUR COMPLETE ONE STOP SOURCE
Reduce the headaches and delivery problems caused by coordinating a number of operation between several vendors.
SF TECHNOLOGY will ship your finished product to your customer, reducing your shipping and handling costs.
---
If you would like an instant quote, use our information request form
to send us a description of your part or product.



16730 Gridley Road Cerritos, CA 90703
(562) 865-0401 - FAX (562) 924-0846


Sales@SFTech.com
Content - © 1998 - SF Technology, Inc. - All Rights Reserved
webmaster@sftech.com